Mu-Hyun Baik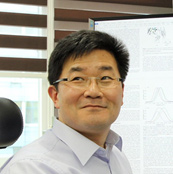 Indroduction
Associate Director Mu-Hyun Baik has recently returned to Korea after having spent most of his academic career in the USA. He is currently a professor of chemistry at KAIST and is a renown computational chemist and an expert in analyzing complicated chemical reactions to understand how molecules behave and how they change. Professor Baik is a firm believer in teamwork and emphasizes collaborative research efforts among scientists from different disciplines as a key component of success.
Among the many recognitions and awards that he received in the past are the Kavli Fellowship (Kavli Foundation and the National Academy of Sciences of the USA, 2009), Alfred P. Sloan Fellow Award (Alfred P. Sloan Foundation, 2007), NSF-CAREER Award (National Science Foundation USA, 2007), Cottrell Scholar Award (Research Corporation, 2006).
Professor Baik has published more than 110 peer-reviewed papers to date, among them is a paper published in the journal Science in 2016 on the catalytic borylation of methane that showed how chemical reactions can be carried out using the natural gas methane as a substrate.
Main Career
Education
2000/11 – 2003/06, Postdoctoral Fellow, Columbia Univ. (Advisor: Prof. Richard Friesner)
1994/08 – 2000/11, Ph.D. in Theoretical Inorganic Chemistry, University of North Carolina (Advisor: Prof. Cynthia Schauer)
1991/01 – 1994/07, Vordiplom (B.S.) in Chemistry, Heinrich–Heine–Universität, Düsseldorf, Germany
Professional Career
2015/11 – present, Associate Director, Center for Catalytic Hydrocarbon Functionalizations, Institute for Basic Science (IBS)
2015/08 – present, Professor, KAIST
2008/07 – 2015/07, Associate Professor, Indiana University Bloomington
2003/07 – 2008/06, Assistant Professor, Indiana University Bloomington
Awards and Honors
2010, Scialog Award (Research Corporation for Science Advancement)
2009, Kavli Fellow (Kavli Foundation & the National Academy of Sciences USA)
2007, Alfred P. Sloan Research Fellow (Alfred P. Sloan Foundation)
2007, NSF-CAREER Award (National Science Foundation USA)
2006, Cottrell Scholar Award (Research Corporation for Science Advancement)
Top Papers

"Catalytic Borylation of Methane" Kyle T. Smith, Simon Berritt, Mariano Gonzalez, Seihwan Ahn, Milton R. Smith III, Mu- Hyun Baik and Daniel J. Mindiola, Science 2016, 351, 1424-1427
"Stereoselective Rhodium–Catalyzed [3+2+1] Carbocyclization of Alkenylidenecyclopropanes with Carbon Monoxide: Theoretical Evidence for a Trimethylenemethane Metallacycle Intermediate" Shivnath Mazumder, Deju Shang, Daniela Negru, Mu-Hyun Baik and P. Andrew Evans, J. Am. Chem. Soc. 2012, 134, 20569–20572